New Humber 5.3 Meter Assault, With Mariner 60hp Stroke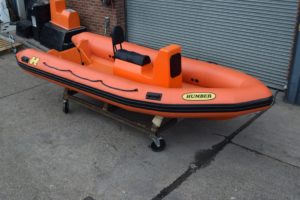 New Humber 5.3 Meter Assault, With Mariner 60hp Stroke £SOLD
Orange hull/Orange tubes c/w pressure relief valves
Sport console and non feed back steering
Mariner 60hp, 4 stroke, 5 year leisure warranty
rev & trim gauges
Fuel water separator system
Swing beam 750kg roller trailer not included but available @ £1,495
Electronics and back seating available
The actual boat is shown in picture one which is all orange
Pictures of blue/white boat show example of finished boat & console that will be fitted.
Additional information
RIBs in this series are between 4m and 5.9m. The Assault range of RIBs has been without doubt one of the best selling, high performance, versatile RIBs available on the market today. The advanced high strength, low weight, deep 'V' hull design combined with its unique tapered keel planing surface and extended rear buoyancy tubes produces outstanding acceleration and handling characteristics. It lifts easily onto the plane and maintains higher speeds with heavier loads than other comparable craft. The Assault is easy to launch, can be towed by the average family car and fits in most garages.
Additional photos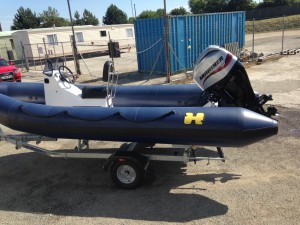 This advert is subject to change at any time and is no part of any contract of sale, please see our terms and conditions for more details.