LEISURE RIBS
Whether you are new to boating, switching from a sports boat or simply upgrading, we have the time to talk with you and discuss your needs so that you have the confidence that the boat that you buy is right for you.
What to look for in a RIB (Rigid Inflatable Boat)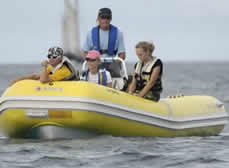 When choosing your RIB, one of the first questions is "what size". In choosing this there are many things to consider, for example: what you intend to use it for, the vehicle that you intend to use to tow and launch the RIB with, where you intend to launch, how many people you wish to carry and so on.
When considering your purchase of a new or second hand RIB, we recommend choosing a RIB with Hypalon tubes as opposed to PVC tubes. Hypalon is a much stronger material than PVC, and better suited to the UK environment. At Powerboat sales Ltd an additional pressure relief valve will always be fitted to all dark colour tubes supplied i.e. black or navy blue, this will help protect the tubes in extreme heat. We recommend that the hull should be laminated by a professional UK laminator, and should not be imported from a country with cheap labour costs and poor quality control. The RIB should be a reputable and established British brand, with a nice high bow, and a deep-V hull ensuring a comfortable, dry ride.
Seating is available with either jockey seats or bench seats and although the bench seating often looks better, It is generally found in practice that the jockey seats offer a far more comfortable ride allowing people to semi stand and lean back on the back rest where they are in a position to take the motion of the boat through there legs where as the people on bench seats often return complaining of back ache. It is worth considering what you will be using the RIB for to determine which seating options would best suit your requirements.
Please contact us with your requirements; we can custom build a Humber or Valiant to suit your needs, with the complete range available and an extensive choice of consoles and seating options available.