Humber inflatables are the UK's largest volume producer of rigid inflatable boats. With customers ranging from commercial, military, dive clubs and leisure, the Humber RIB is acclaimed for being a utilitarian, reliable and affordable boat brand – the Land rover of the sea.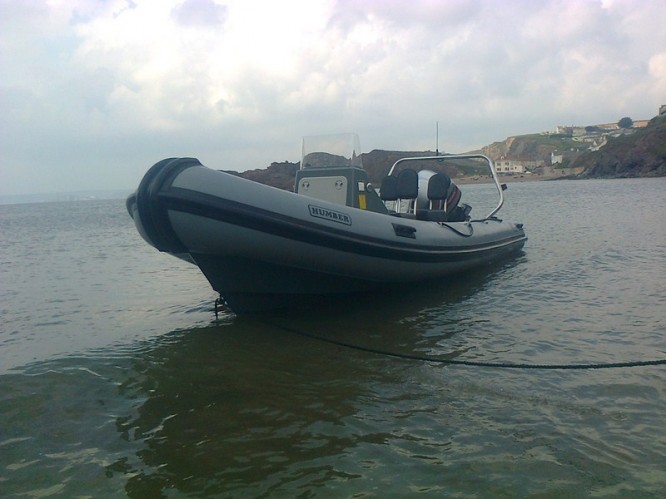 Background
Frank Roffee conceived the first Humber rigid inflatable boat in the early 1960s. A caravan maker by trade and a keen diver, Frank had the idea of making an inflatable boat for his dive club. His new invention was an instant hit with the diving community and soon the inaugural Humber Attaque RIB was launched.
By the mid 1990s, Humber had become one of the most prolific RIB manufacturers in the UK, over 11,000 rigid inflatable boats have been built since the first model. Humber remains a family-run business with Frank's son, Andrew Roffee now in charge of the company, which is based in Hull, Yorkshire.
Humber Design
The Humber RIB has for a long time been known for its no-nonsense, strong and robust design and workmanship. There appearance has been of a basic, no frills look, which is associated with the traditional, heavy-duty commercial rigid inflatable boats.
Although the Humber RIB has historically been best known in the commercial market, the Humber RIB also offers a wide range of models, colours, and console options making them the first choice for many leisure users, the boats reputation for providing value for money, in combination with their overall robust build, has established the brand to what it is today with second hand Humber RIB's holding there value in the market place.
With the exception of the Humber Sea Pro Tender & Coastal RIB series, a key feature of Humber rigid inflatable boats is a deep V-shaped hull, which helps give the boats strong sea-keeping ability, cushioning the impact of the waves and providing users with a dry and comfortable ride.
The Humber rigid inflatable boat range is comprehensive, with the portfolio comprising six main series as well as a conventional Inflatable line.
Click to see current stock and buy a Humber Rib
The Humber Sea Pro Tender & Coastal series
This shallow 'V' model range offers boats between 3.1m and 4.8m. Both are easy to launch and recover and have the capabilities to operate in shallow waters inaccessible to a deeper V hull. Unique in its field and a popular fleet boat, organizations including British Antarctic Survey have operated this model range in extreme Antarctic conditions for over 20 years. It is also popular choice with River Authorities, Police, Fire and Rescue organizations who benefit from its shallow draft and versatility.
The Humber Assault series
RIBs in this series are between 4m and 5.9m. The Assault range of RIBs has been without doubt one of the best selling, high performance, versatile RIBs available on the market today. The advanced high strength, low weight, deep 'V' hull design combined with its unique tapered keel planing surface and extended rear buoyancy tubes produces outstanding acceleration and handling characteristics. It lifts easily onto the plane and maintains higher speeds with heavier loads than other comparable craft. The Assault is easy to launch, can be towed by the average family car and fits in most garages.
The Humber Destroyer series
This series ranges between 5m and 7m. The Destroyer range of RIBs were designed and developed through recognition of the concept of a rigid inflatable boat's sea keeping capabilities. This model has endured extensive sea trials in the harshest of conditions to achieve, without doubt, a perfect performing RIB that is in a class of its own.
The combination of high strength, low weight, advanced deep 'V' hull design, together with its sheer high bow and unique tapered keel planing surface produces excellent results whatever the sea state. The most amazing characteristics of these superb looking craft are their ability to 'grip' the water enabling sharp responsive high speed turns. Any short attempt to become airborne end with a soft landing as the perfectly formed deep 'V' irons out the shock of re-entry.
The Ocean Pro series
Ocean Pro 5m and 5.3m (2.0m beam)
The Ocean Pro 'Attaque Classic' was responsible for Humber branching out from the pure inflatable boat market. In 1970 our development programme of new builds evolved to what is now recognised the Rigid Inflatable Boat (RIB). Over time, this product became responsible for the launch of the entirely new Ocean Pro range that is inextricably linked with dive clubs and divers the nation over. Since inception, the Ocean Pro range has been largely responsible for the growth of the RIB industry.
The original concept of this unique craft was designed and perfected years ahead of her time with her outstanding offshore performance capabilities. The Ocean Pro set the standard for the world RIB market. This design has the enviable record as the first Rigid Inflatable Boat (RIB) to cross the Atlantic single handed and unaided. This was back in 1984.
Ocean Pro 5.0m up to 5.5m (2.28m beam)
The Ocean Pro 2.28m beam was developed and modified from the highly successful Ocean Pro 'Attaque' RIB. This wider RIB evolved by popular demand from RIB enthusiasts and users alike. It enables a broader usage of the craft and offers a more generous beam with wider raised deck thus maximizing load and carrying capabilities.
A wider range of console and seating are available to compliment the beam. This enables the craft to be used in a greater variety of applications such as dive clubs or the serious sports or leisure user wishing to venture into rougher waters. The Ocean pro 2.28m beam travels at higher speeds whilst maintaining all of the Attaque's excellent sea keeping and handling characteristics.
A noticeable high raised bow is a specific design enhancement for the wider beamed Ocean Pro ranges. This provides a commanding offshore appearance. The user recognises they are aboard a substantial craft. This feature also produces greater comfort and perceived safety when underway in offshore conditions.
Ocean Pro 5.7m up to 6.3m (2.34m beam)
Renowned for outstanding sea keeping capabilities the Ocean Pro 2.34m beam has proven itself flexible for all types of applications. Sporting superior looks the unique multi chine deep V hull design combined with a high sheer bow creates unrivalled performance in rough water conditions. Its wider beam increases loading capacity.
Appealing to all applications, this model is the preferred choice for many professional organizations including Commercial, Rescue and Government. It also appeals to serious dive and charter operations. The Ocean Pro is ideal for RIB cruising as its generous wide beam offers a more sociable cruise style console and seating arrangement. Unlike may other RIB manufacturers we offer an extensive range of accessories for individual customisation.
Ocean Pro 6.0m up to 8.0m (2.6m beam)
This range of R.I.B's will surpass your expectations. Offering the ultimate in all round performance and handling whilst enduring the harshest of sea conditions.
Sporting a unique multi chine deep V hull, a high sheer bow and over sized tube, this model range has proven its superiority and status as the UK's number one choice.
Designed with maximum versatility which would meet the demands of the professional dive, rescue and commercial operators, whilst its stylish good looks appeals to the sports and leisure user alike. Ideal for the more serious R.I.B cruising enthusiast, these craft are capable of travelling, faster, further and in more comfort than other comparable craft available on the market.
or contact us with what you are looking for and we will find the right boat for you.